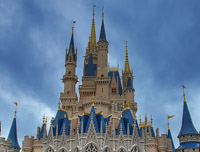 The Jacksonville area is a spot you can't miss. With its long list of attractions—from stunning landscapes and immaculate beaches to world-class museums and beautiful parks—it's easy to see why. The city is a natural paradise for tourists looking for an affordable, yet luxurious destination. With over 20 miles of wide and un-crowded beaches, the long stretch of the beautiful St. Johns River and an average of 270 days of sunshine per year, the city is a boater's dream-come-true. A number of cultural events are held in the city such as The Jacksonville Jazz Festival, The Jacksonville Film Festival and many other annual events of various types. Other reasons for visiting Jacksonville are The Cummer Museum of Art and Gardens, The Museum of Contemporary Art Jacksonville, The Museum of Science & History and Riverside-Avondale, one of the most well-preserved historic neighborhoods in the United States, with over 5,000 historic buildings. Enjoy prominent history, arts and culture, authentic cuisine and make sure you use the services offered by Jacksonville InterPlex Destination Services. Our quality airport transportation and limo services will help you enjoy the best of your stay in Florida. InterPlex provides chauffer, taxi and limo service to Prime Osborn Convention Center, Sea Best Field, Jessie Ball DuPont Center, Sesquicentennial Park, and Hodges Stadium- UNF, as well as many other attractions, landmarks and interesting places. We are here to make your visit a pleasant and memorable experience.
Simply position your cursor over the relevant price-cell, follow the link, and proceed with confidence to book your trip online!
If you have any questions or need additional information, please feel free to contact us at
1-888-255-9209 or use
- All prices in USD

.
- Prices are per vehicle.
- Prices do NOT include driver's gratuity (tip).
- Service Charge of 20% will be added for all limousines and specialty vehicles services.
- All rates subject to change without prior notice.
- For Cancellations and other questions please refer to "Terms & Conditions"